Arriva Trains Wales Club 55 Trip To Taunton
On Thursday, 3rd November 2011, a group of North Wales Railway Circle members decided to take advantage of the Club 55 offer. They purchased an Arriva Trains and First Great Western add-on ticket for £23. The journey selected was from Bangor, Gwynedd to Castle Cary; this allowed the group to make a circular tour from Bristol to Bath, Westbury, Castle Cary, Taunton and back to Bristol.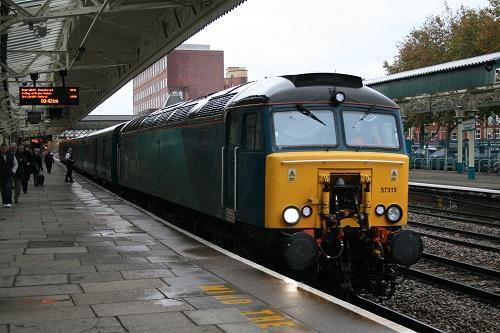 We departed Bangor 06.02am on the WAG train hauled by 57315.

Nothing of interest was seen until we arrived in Hereford. Standing in the centre road was a leaf-busting train, top and tailed by EWS locos 66143 and 66079 running under code 3S59. Enquiries revealed that this train left Bristol LNWR at 21.07hrs and did the following lines: Westbury, Avonmouth, Cardiff, Radyr, Abercynon, Merthyr, Pontypridd, Mountain Ash, Cardiff, Ebbw Vale, Newport, Hereford, Morton on Lugg and would return to Bristol LNWR at 13.30hrs that afternoon.

We arrived at Newport at 09.40hrs; we had approximately 45mins to wait for our connection. The following freights were viewed: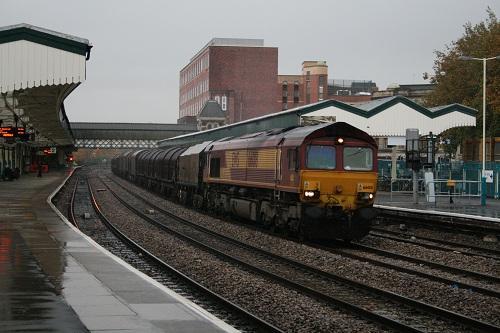 09.55 EWS 66018 on empty steel wagons for Cardiff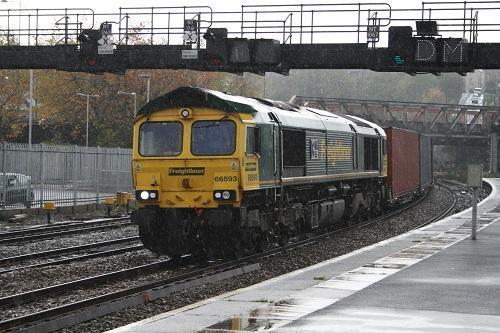 10.00 Freightliner 66593 on the Wentloog to Portbury liner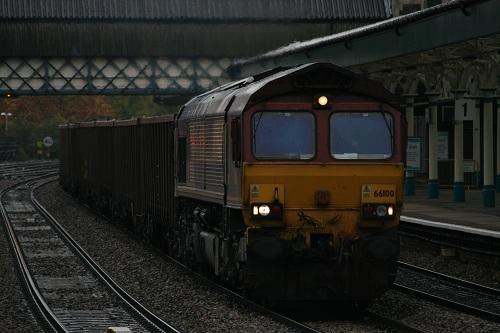 10.17 EWS 66100 on a train of scrap heading for Cardiff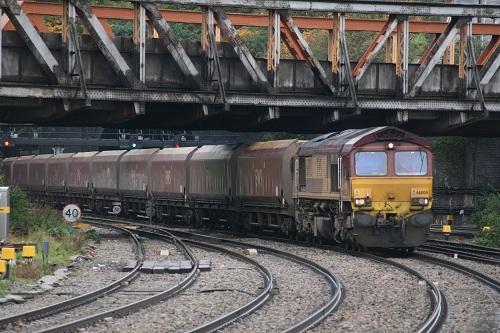 10.24 EWS 66008 heading for Severn Tunnel with an empty coal train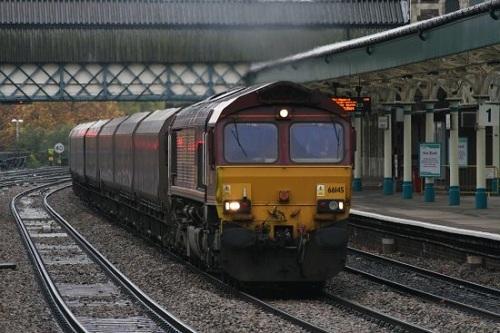 10.27 EWS 66145 heading for Cardiff with a loaded coal train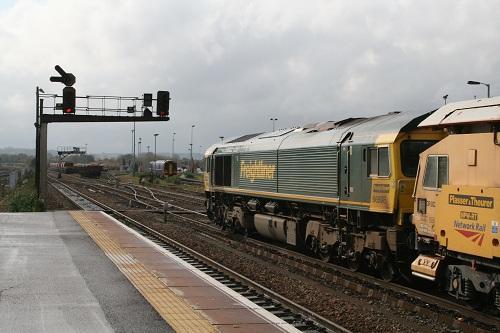 We departed Newport at 10.44 on a FGW158 unit for Westbury. Two EWS locos were sighted on freights at East Usk Yard. They were 66519 and 66111. We arrived at Westbury at 12.01 - it was very disappointing to find only a freightliner locomotive hauling a ballast train, loco no. 66598. There was also an 08 shunter present but we were unable to get the number.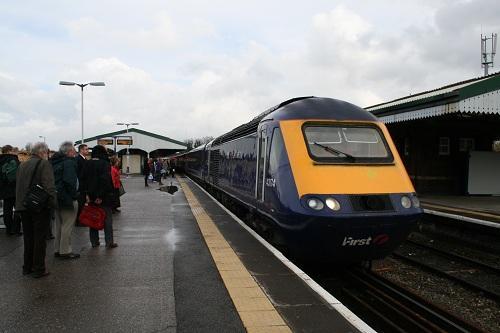 Our next train was a Paddington to Plymouth service, the train being a HST unit. Unfortunately, this was running late. We didn't alight at Castle Cary, continuing instead to Taunton arriving there late at 13.12.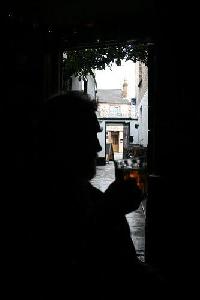 The group made their way out of the station for refreshments; a pub with real ale was located 100 yards from the station.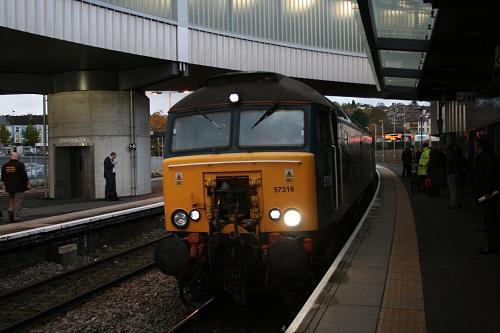 We departed Taunton at 14.09 for Bristol on FGW 158 unit bound for Cardiff, arriving at Bristol at 15.05. The train stands here for 15mins which gives you sufficient time for you to go to the station buffet for refreshments. On leaving Bristol we sighted the leaf-buster in the LNWR sidings. We arrived in Newport a 15.50 to catch the returning WAG to Bangor hauled by 57316. Whilst waiting we saw EWS 66102 on a steel train heading for Severn Tunnel. Nothing else of interest was seen until we arrived in Gresty Lane, Crewe where 3 locos were on site - 47501 and 37609, the third loco was not identified.
We continued to Bangor following a late running Manchester - Llandudno service. No surprise again. On entering platform 3 at Llandudno Junction Station, the driver made an emergency brake application as a member of the public had fallen onto the track some distance in front of our train. We were there for some time and eventually the train was reversed back towards the Queens Road bridge and gained access to platform 1. This is the first time I have ever seen a locomotive hauled train arrive and depart from this platform to gain access to the down main. The trip was quite disappointing from the amount freight trains and locomotives viewed, but the scenery and the pleasant company made up for the lack of locomotives. Arriva Trains Wales Over 55s Club tickets have proved very popular with "The more senior members" of The NWRC no doubt future trips will be organised in the coming months.

Gary Hughes (photos Brian Bollington)