All Cornish Branch Lines in a Day
On Tuesday, 19th June 2012, a group of North Wales Railway Circle members decided to visit Cornwall in an attempt to travel all of Cornwall's passenger carrying branch lines. We completed this in 11 hours 45 minutes.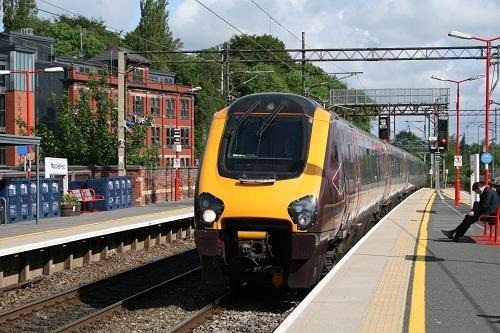 Cross Country Voyager 220317 enters Macclesfield Station Photo Brian Bollington
The plan was to purchase a "Ride Cornwall Ranger" costing £10; this ticket states that it cannot be used before 09:00 on the day of travel, but there is one train that it can be on used prior to 09:00. This is the 08:14 from Plymouth to Penzance. This does not seem to be general knowledge, as this fact is not well-advertised.

We managed to get reasonably priced tickets on a Cross Country service from Macclesfield to Plymouth.

We departed Macclesfield on a Voyager 220317 (a Bournemouth service).
At 10:44 Wolverhampton Station, we noted stabled Pendalino 390006 and a west-bound DMU for Shrewsbury, units 158833 + 158821. In the bay platform was an electric unit 323311. On leaving Wolverhampton viewed EWS 66077 at the Corus Steel Depot.

At 10:59am New Street, Birmingham retired for lunch.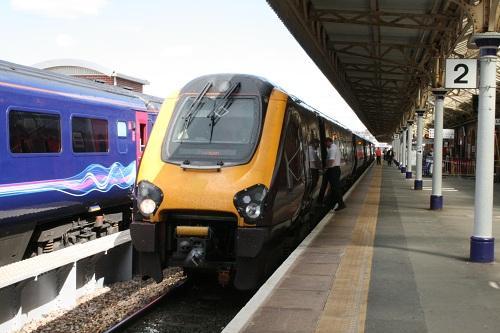 Cross Country Voyager 221120 prepares to depart Taunton for Plymouth. Photo Brian Bollington
At 13:12 XC service to Penzance Voyager 221120. On arrival at Bristol viewed 2 Great Western HST's; numbers are 43030 + 43156 and 43151 + unknown.

Our arrival at Taunton was at 15:22 and we decided to visit the town. We returned to Taunton Station in time to catch the 17:50 XC service to Plymouth. This was delayed due to signalling problems and we were transferred to a Great Western service DMU 150219 and we arrived in Plymouth at 19.31.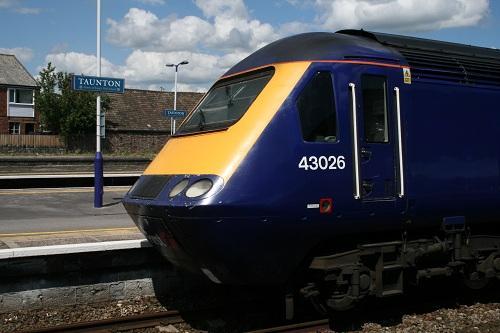 43026 at rear of an up service HST at Taunton. Photo Brian Bollington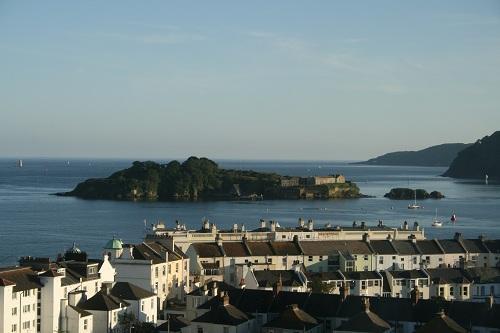 Room with a view, Quality Hotel, Plymouth. Photo Brian Bollington
We had booked 2 nights stay at the Quality Hotel in Plymouth, which has superb views across Plymouth Ho, where we viewed the comings and goings of numerous warships.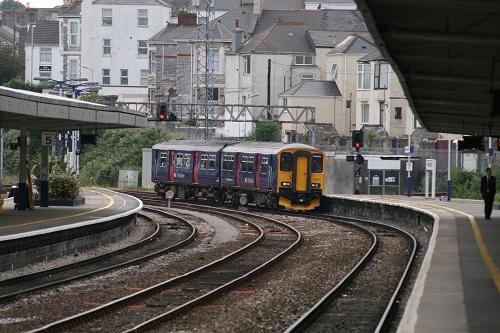 Penzanze bound Units 150216 + 150243 arrive at Plymouth. Photo Brian Bollington
On Wednesday the 20th June we were up early and had purchased our tickets the previous evening.

08:14 departed Plymouth for St Erth on units 150216 + 150243.
St. Ives Branch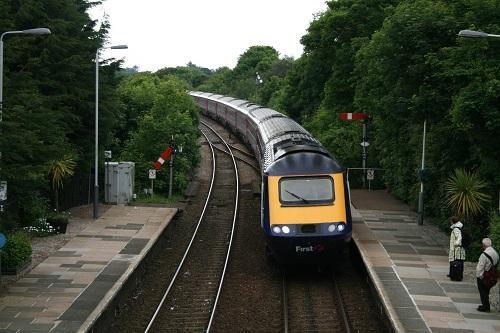 Crossing the footbridge from the down platform to the branch bay a HST arrives on the up thus three trains connect at St Erth simultaneously. Photo Brian Bollington
10:08 arrived St Erth, boarded units 150249 + 150123, these were in the bay platform.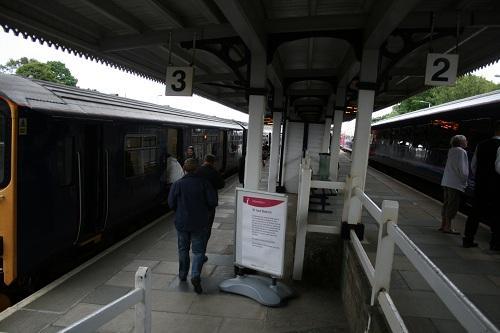 Passengers interchange the branch bay is to the left of the picture. Photo Brian Bollington
10:18 departed St Erth and travelled along the beautiful coastline to St Ives, arriving there at 10:31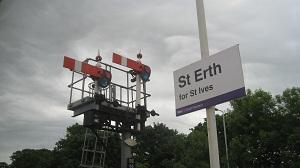 Semaphores on the up main. Photo Gareth Hughes.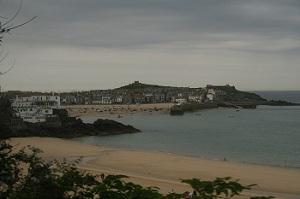 Approaching St Ives, taken from the train. Photo Brian Bollington.
A large number of passengers disembark at St Ives. Photo Brian Bollington
With a very quick turn-round we departed St Ives at 10:33. We were pleased to witness that this service was heavily patronised.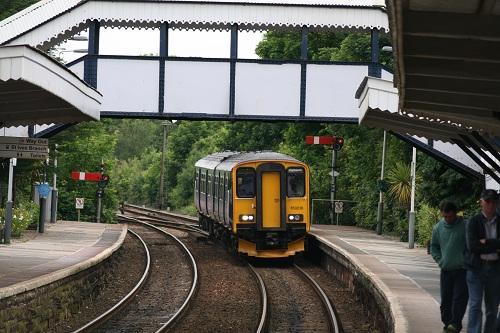 150216 arrives on up platform 2. Photo Brian Bollington
At 10:47 arrived at St Erth and got on the 10:55 service to Truro on unit 150216.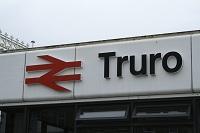 At ll:25 arrived at Truro - went over to the bay platform to await the 11:51 departure for Falmouth Docks.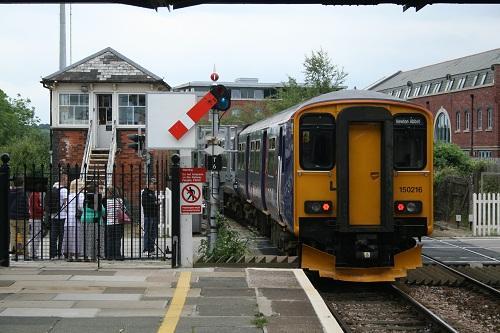 150216 continues it's journey passing Truro signal box. Photo Brian Bollington
Falmouth Branch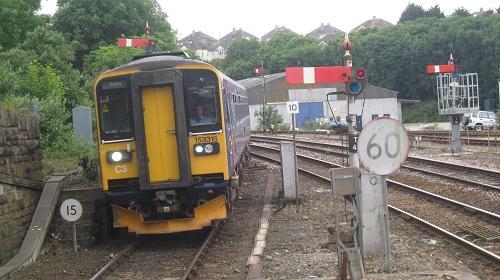 This service had 2 single units; 153382 + 153318.
Single car Units 153382 + 153318 arrive in the bay at Truro from the Falmouth branch. Photo Gareth Hughes.
We set off and at Penrhyn we passed unit 150265 heading for Truro. Penrhyn has a long single-faced platform having a loop for half its length. This made it an interesting piece of railway working.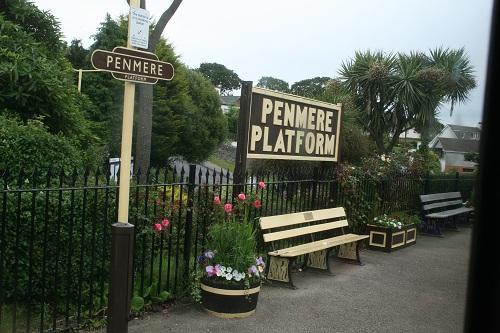 A shot of the well kept station at Penmere taken from the train. Photo Brian Bollington.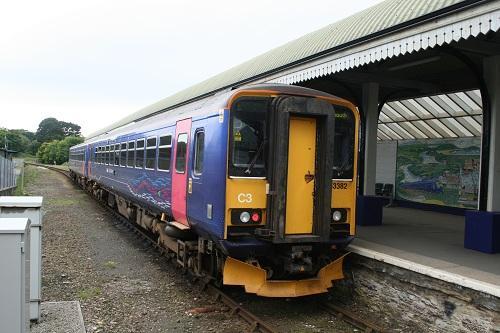 Our train standing at the end of the branch in Falmouth. Photo Brian Bollington.
At 12:14, arrived Falmouth Docks. This location was busy but not from a rail point of view. This rail location is a shadow of its former self.

At 12:20, depart for Truro.

At 12:48 arrived Truro just in time to see our old friend 66007 heading for Penzance with a train of loaded fuel tankers.
EWS liveried 60007 passes through Truro with a down working of tankers. Photo Brian Bollington.
The North Wales Railway Circle meetings are held in the Bangor Railway Institute; some of our members are also members of B.R.S.A. which entitles them to frequent railway association clubs throughout the UK. In Truro, the G.W.R.S.A. club is directly over the road to the station so we decided to go in for a pint and a packet of crisps. We were all made very welcome by the locals.

At 13:32 we departed Truro for Par on unit 150125 arriving there at 13:57.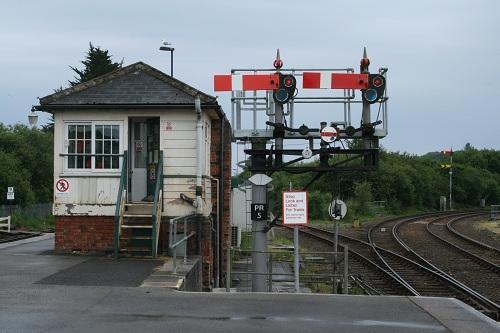 A very traditional scene of semaphores and box at Par. The Newquay branch is off to the right of the picture with the connection to the main line, which is to the left of the signal box, seen here passing behind the box.
Photo Brian Bollington.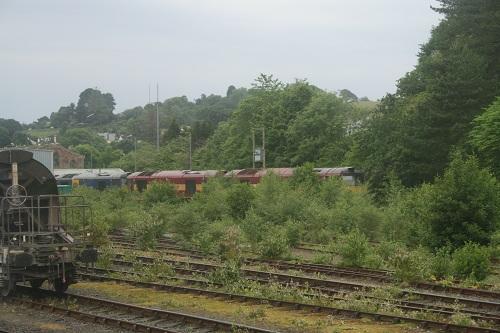 A "purely for the record" shot of the class 60 locos, hiding behind undergrowth, taken from the train at St Blazey.
Photo Brian Bollington.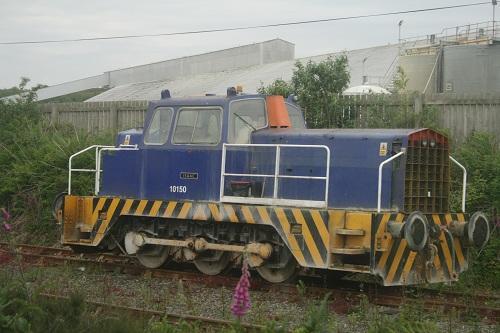 Passing the china clay sidings at Goonbarrow Junction a shunting locomotive named Issac was to be seen.
10150 "Issac" seen at Goonbarrow. Photo Brian Bollington.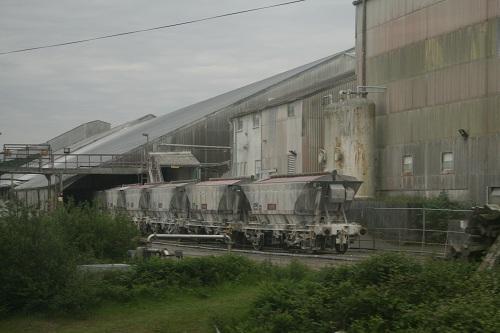 China clay wagons at the works in Goon barrow. Photo Brian Bolligton.
We continued to Newquay arriving at 14:56; again a smart turn round by the train crew, departing within 5 minutes of our arrival. Newquay Station gave the impression of a 'has-been' location, with its two long platforms, only one in use, and the statutory supermarket having been built on the old freight yard.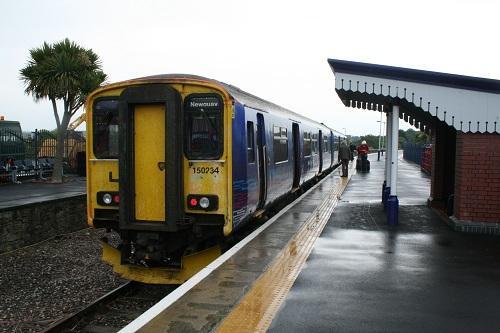 With the weather turning ever wetter 150243 awaits departure from Newquay. Photo Brian Bollington.
At 15:47 arrived back in Par. We then caught the 15:42 service to Liskeard, unit 150243 providing this service, arriving at 16:17.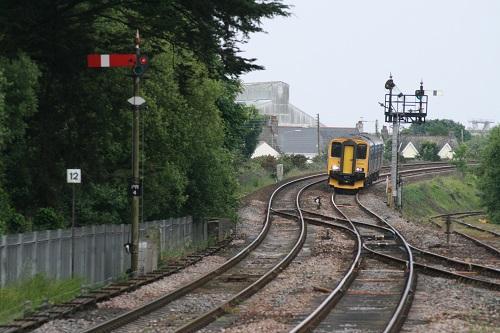 150243 runs down the bank into Par station. Photo Brian Bollington.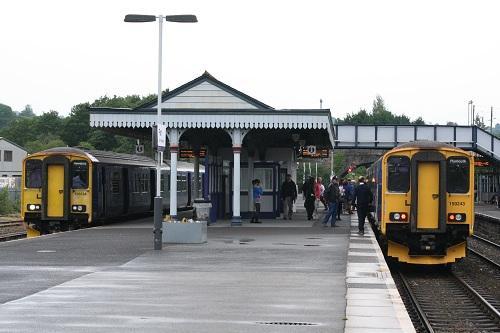 The branch train stands to the left of the picture with the Plymouth service having arrived on the right. Note the Great Western style "lower quadrant" semaphore has been pulled off giving the right of way for the main line train. Photo Brain Bollington.
On vacating the train, I was expecting to see the Looe train in a bay platform. To my surprise I was told to leave the main station and cross a road, the entrance to platform 3 would then be seen. On crossing the road I could see a single platform with a platform 3 sign hanging from the canopy. This is a single line terminus which I can only described as authentic with an air of heritage. On standing on the platform, it wouldn't have surprised me to see a pannier tank and auto coach pull in to the platform.
The Looe Branch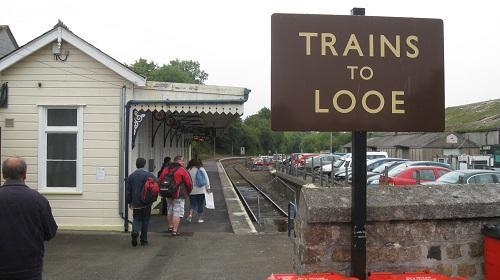 Platform 3 for the Looe branch at Liskeard. Photo Gareth Hughes.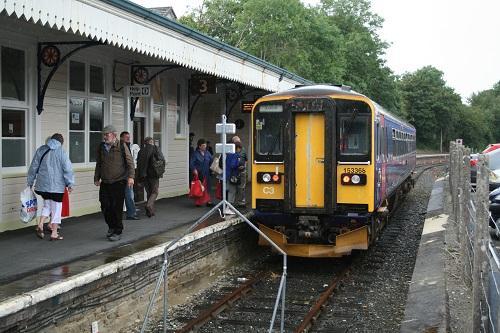 153368 stands at platform 3 forming the Liskeard to Looe service. Photo Brian Bollington.
At 16:41, the unit 153368 commenced its journey, going under the western main line to Coombe Junction. The guard informed me that there is still one freight train which runs on a Monday to the Moorswater Cement Factory the other side of Coombe Junction.

By now the weather had changed for the worse; it was raining continuously and the light was fading. At Coombe Junction, the poor old conductor had to get out of the train, change the staff and pull the points for the Looe branch. The driver changed ends and we proceded to Looe.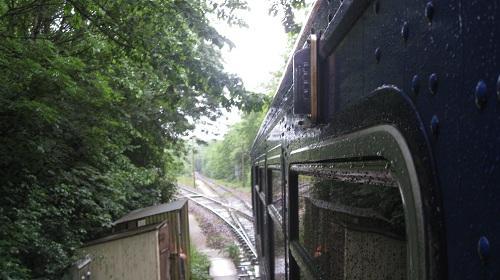 Managing to squeeze hands and compact camera out of the top vent window this shot was taken showing, to the bottom left, the small cabin housing the ground frame and in the distance the line from Liskeard coming in from the left and the line on to Looe dropping down to the right. Photo Gareth Hughes.
We made our way down a narrow valley at a slow steady speed which gave us the chance to see the wildlife that was in abundance along the river we were following.

Our arrival in Looe was in a downpour; we got off, took a quick photograph and jumped back on.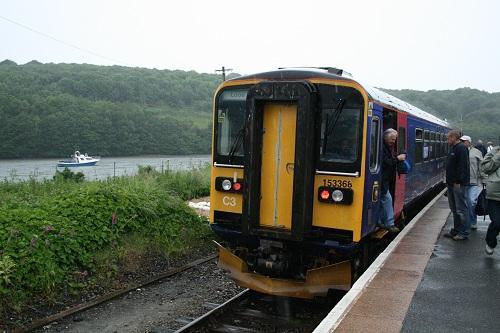 Passengers alight and board 153366 in the pouring rain at Looe. Photo Brian Bollington.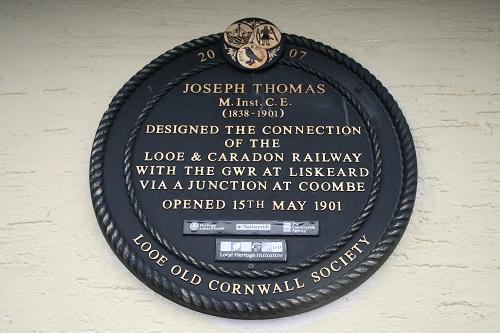 This plaque is on the wall at Looe station. Photo Brian Bollington.
With Looe seen through the heavy rain in the back ground 153368 prepares for departure. Photo Brian Bollington.
We arrived back in Liskeard at 17:43, and departed Liskeard at 17:49 on unit 150243 heading for Gunnislake via Plymouth.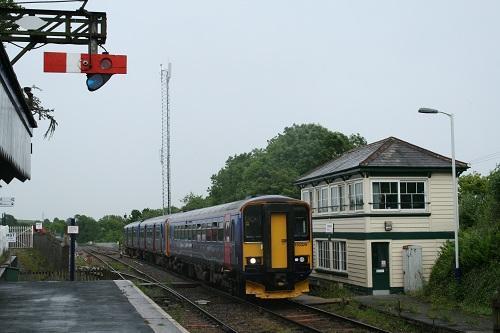 Single unit 153329 leads a 3 coach down train passing Liskeard signal box. Note the unusual wooden semaphore signal above the station canopy in the top left of the picture. Photo Brian Bollington.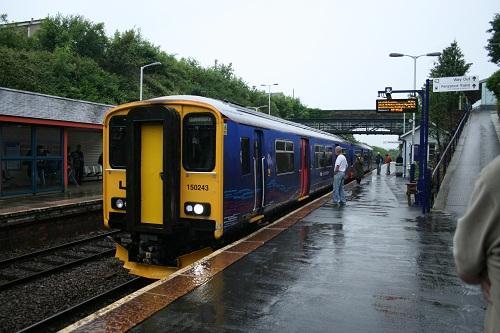 150243 enters Liskeard bound for Gunnislake via Plymouth. Photo Brian Bollington.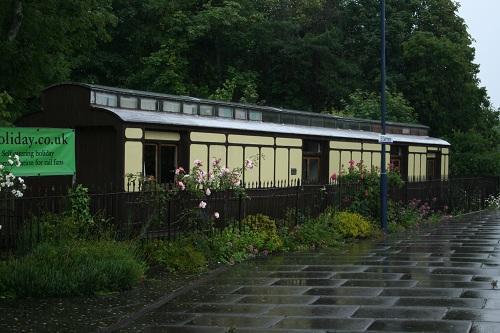 On route to Plymouth at St Germans station a former Great Western clorestory coach is seen sitting on it's own piece of track. It is used as a camping coach and can be rented for holidays. Photo Brian Bollington.

The Gunnislake Branch
They always say leave the best until last, without a doubt the scenery on this line was second to none.
Having first returned to Plymouth and bay platform 3 we headed back out west leaving the west of England main line at St Budeaux and dived beneath it, travelled for some distance in a semi-circle and came back alongside the east shore of the Tamar River. No sooner had we come alongside the river we went under Mr. Brunel's imposing Saltash Bridge. We continued up the ex-southern main line which is now down to a single track.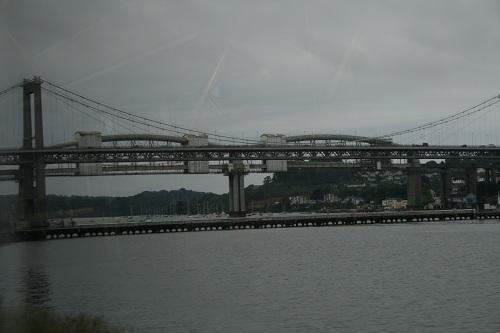 Hidden behind, the not so glamorous, road bridge and part covered by scaffolding and covers, for maintenance work, Isambard Kingdom Brunell's Saltash Bridge can just be seen through the window of the train as we run along side the River Tamar. Photo Brian Bollington.
We arrived at Bere Ferrers Station where we briefly viewed the railway station museum and its outside exhibits.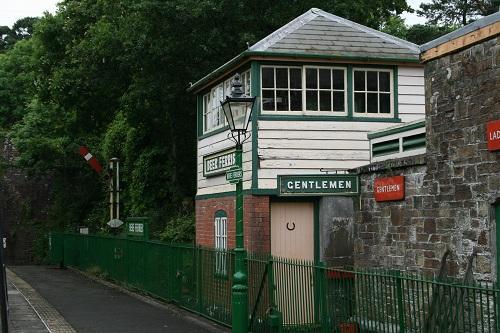 Reflecting former Southern Railway days Beer Ferris signal box now part of the museum site.
Photo Brian Bollington.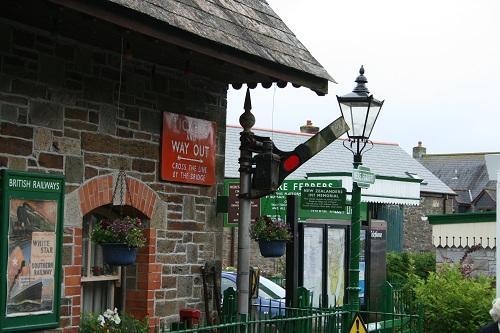 The former Bere Ferres goods shed is in the back ground the semaphore signals are exhibits and not operational.
Photo Brian Bollington.
We then continued to the next station which is Bere Alston. This is a dead-end station; the line used to continue to Tavistock from this location. The driver then changed ends and the guard made his way to ground frame and changed the points for Gunnislake.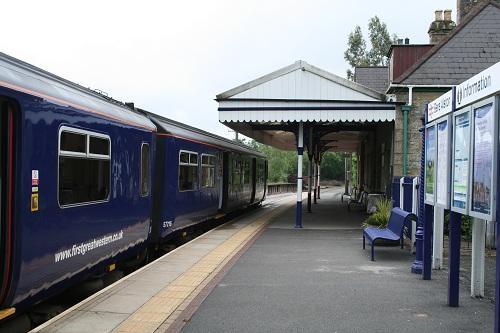 Our train stands in Bere Alston station while the driver changes ends and the guard changes the points, a single line staff is in use, ready to proceed towards Gunnislake. Photo Brian Bollington.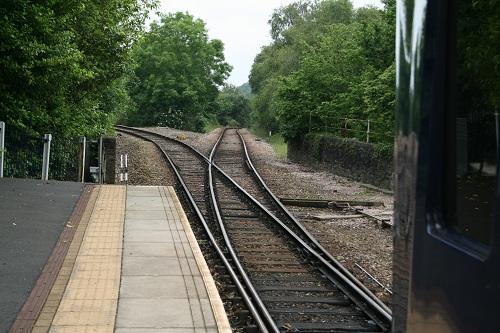 Having changed ends the train will now proceed to Gunnislake on the line dropping away to the right, having arrived on the line coming in on the left. Photo Brian Bollington.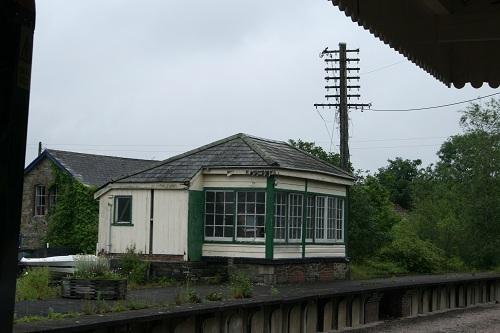 In Southern colours the redundant Bere Alston signal box. The old telegraph pole giving an indication of how busy this location would have been. Photo Brain Bollington.
The next stop was Calstock this was reached immediately after traversing a large viaduct over the River Tamar.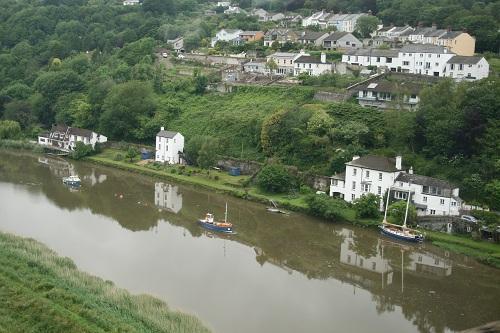 Train with a view. Looking down as we travers the viaduct. Photo Brian Bollington.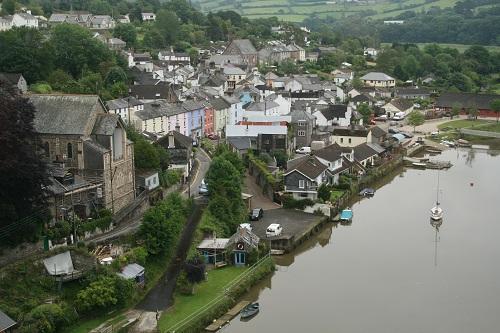 Looking down from the other side of the train, the picturesque village of Calstock. Photo Brian Bollington.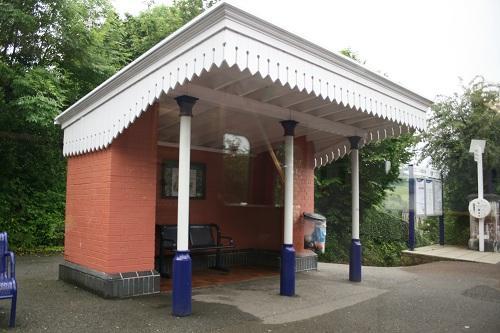 Well kept, simple but attractive Calstock station. Photo Brian Bollington.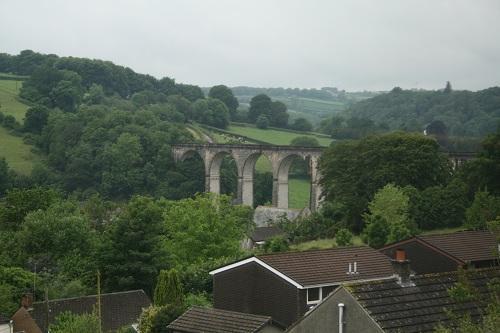 As we depart Calstock station we look back to catch a glimpse of the viaduct we have just crossed. Photo Brian Bollington.
The weather now can only be described as atrocious making photographing difficult, and also driving the train problematic. A mile and a half from Gunnislake we stopped at an ungated level crossing; the driver hooted and then moved forward. We were in a deep cutting and the train's wheels were slipping. After a few minutes the driver managed to get adhesion, and we arrived at Gunnislake at 19:11.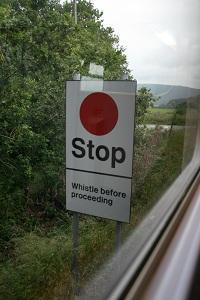 At several level crossings on the line the train is required to come to a stand and sound it's horn before proceeding. Photos Brian Bollington.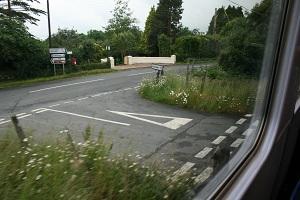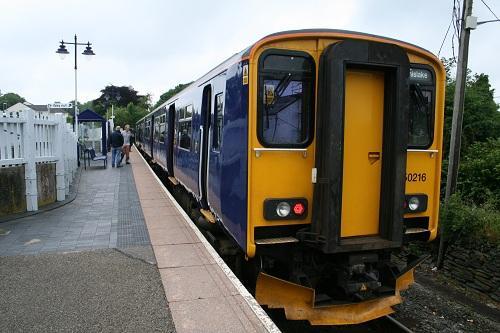 Gunnislake Terminus. Photo Brian Bollington.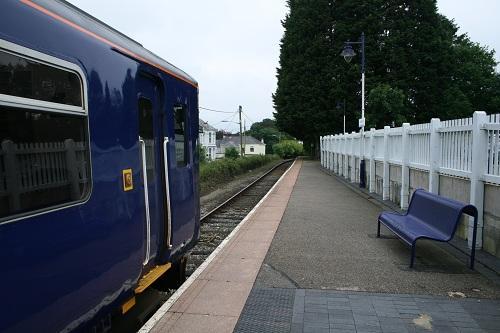 Looking towards Calstock and beyond. Gunnislake is a simple dead end terminus, the line having receded some distance from it's origional location. Photo Brian Bollington.
Again a very quick turn round departing at 19:13, arriving back at Plymouth 19:58.
The 21st of June is the longest day, but I can only describe it as the longest day of rain that I have ever experienced.
Precis of the Day
First Great Western were GREAT; the service, numerous changes all went without a hitch. As I mentioned previously, it was nice seeing all the trains being well-patronised. All the staff we had contact with were pleasant and informative. The only thing that surprised was the amount of overhanging shrubbery that kept striking the train sides whilst in Cornwall. Network Rail seriously needs to get their shears out this winter. The scenery that we experienced definitely confirms The Cornish Riviera! I thought I had travelled over some large viaducts on the Settle and Carlisle line, but Cornwall beats them hands-down for majesty and height.

This was an excellent trip and exceptional value for money.


Due to the poor photographic opportunities on Wednesday evening, one of our members travelled early on Thursday morning to Gunnisslake to obtain better photographs for this article.