Five go to Cresson
Posted by Peter Hanahoe on Sunday, 24 February 2013
A story of 5 members of the North Wales Railway Circle making a trip to Cresson, Pennsylvania in September 2012. Phil Thomas, Garnedd Jones, Steve Morris, Colin Webb and me, Peter Hanahoe. Flights to Philadelphia and a Hire car were procured and we were on our way.
The plan was to wallow in trains for a week. This was achieved; read on.
Cresson is a small town in the Allegheny mountains and is on one of the busiest East-West routes on the Norfolk Southern network. Several members of the North Wales Railway Circle have visited there over the years. We were to stay at The Station Inn. A most excellent B&B where the Proprietor, Tom Davis, has built a business by doing a top job of catering for railway enthusiasts and their various needs. He has also become a good friend over the years. To check out the Station Inn, look up Tom's superb web site at:-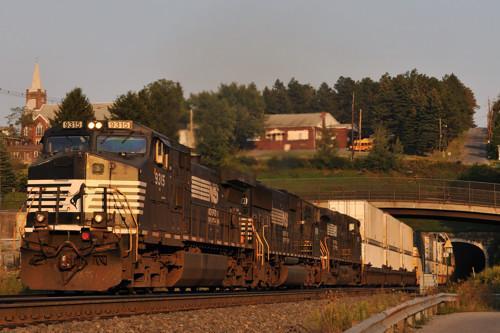 A huge quantity of freight passes through Cresson in a day but there are a couple of lines that branch off the main too. It is also the a base for helper / banking engines and a servicing point too. All this combines to make it a very busy location. Here's a Westbound stack train cresting the hill in the small town of Gallitzin just East of Cresson. It is led by 3 Norfolk Southern locomotives, A brace of Dash9-40CW's sandwich an SD60I giving a combined hp total of 11,800.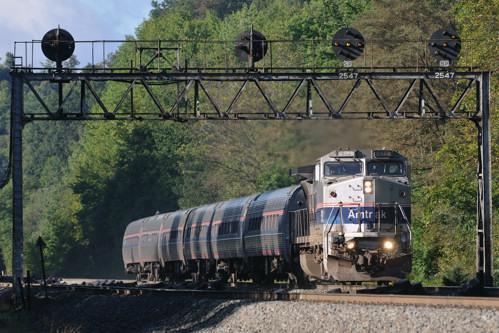 There are now very few passenger trains through Cresson and there hasn't been a station for many years. The Station Inn is in fact the former station Hotel. The passenger service that does pass through, is Amtrak's "Pennsylvanian". This is the New York to Pittsburgh and return. East bound passes through mid morning, Westbound around tea-time. Here is the morning Eastbound at Lilly framed by one of the signal gantries that are still in use, a relic of the line's Pennsylvania RR heritage. The loco is a Bo-Bo type Dash8-P32BWH. Not too long ago this was a big train carrying box-cars of mail and road-railer lorry trailers.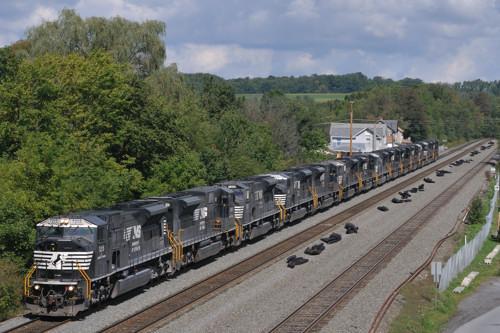 The servicing area at Cresson deals with the helper engines but on a weekend, engines that work the mining branches that leave the main at South Fork a few miles to the West are serviced in Cresson too. It's normal for these engines, fuelled, sanded and checked over, to run back to South Fork on a Sunday afternoon ready to start another week. We were lucky enough to catch this group of 14 loco's running down the hill. These engines are designated SD80MAC's, not a common type and NS only has 17 in total.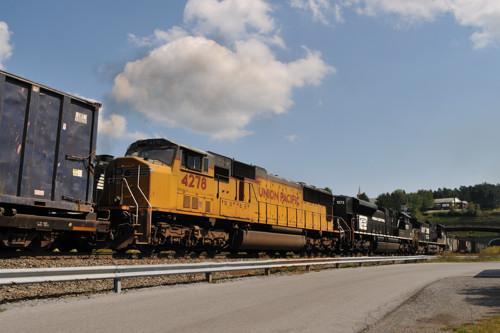 On the main line, it's fairly common to see power from "foreign" railway companies although they will never be the lead engine as they are not equipped with the signalling equipment required to take this role over this route. Here is an SD70M belonging to the Union Pacific on a Bin-Liner at Gallitzin. Interestingly, the loco ahead of it is one of the NS's Heritage fleet, a very new SD70ACe painted up in the livery of the Penn-Central. For more info on this innovation by NS, check out this link to their web site.
http://www.nscorp.com/content/nscorp/en/the-norfolk-southern-story/heritage-locomotives.html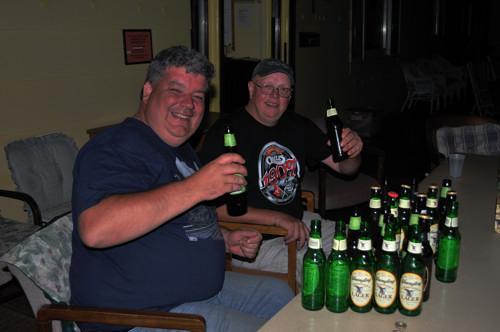 After a hard day by the line, here are two of our Party, watching some night time trains on the Veranda at the Station Inn.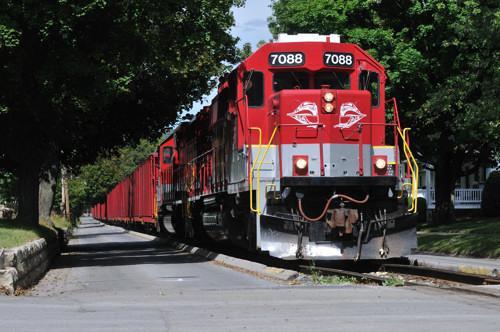 The branch lines that run North from Cresson are run by R. J. Corman. One branch goes to a coal loader at Fallen Timber. The other, wends its way on to Clearfield and beyond and has other branches off it too. Clearfield is the centre of operations for R. J. Corman in the region. We had a day out on the Corman branches and one of Tom's other guests elected to come along with us. A gentleman called Al from Detroit. Very interesting company and works in the car industry would you believe? Here is one of Corman's trains coming down the middle of a street in Clearfield. The loco's are SD40-2's and there is another pair on the back end. These red coal hoppers are only used on Corman's lines and don't venture out onto the main.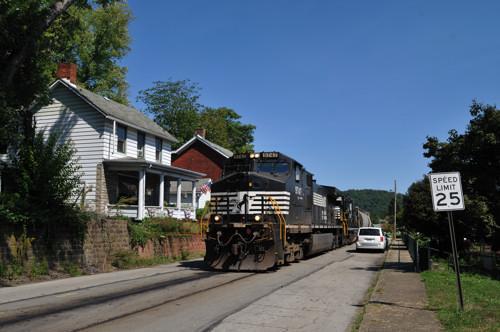 There are many places of interest you can visit on a day trip from Cresson. We ventured one day to West Brownsville. The reason for the trek there was to see the freight trains on NS that run down the middle of the street. There are other locations where Street Running takes place I know but this is a good one. There are many trains in a day too and some CSX trains come along here. CSX runs through Brownsville and the two lines are connected by a bridge on the North of the two towns. The line leads to several mines in the area and they run big trains, up to about 130 coal hoppers. It's fair to say that West Brownsville, and indeed Brownsville on the East side of the Monongahela river, have seen better days but it's still a friendly little place. The train below is the local led by an NS Dash9-40CW and a GP38-2.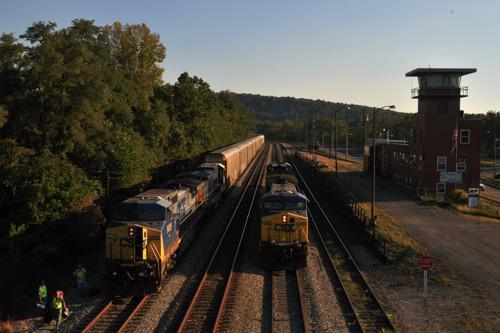 On our way back to Cresson that afternoon we called at Connelsville which is on the CSX main line between Baltimore and Pittsburgh. Here is a Westbound car train (autoracks) making a crew change. It is hauled by a Dash9-44CW and a Dash8-40C. The pair of engines on the right are an AC4400CW and an AC6000CW waiting to attach to the rear of an Eastbound coal train and assist it over Sandpatch grade.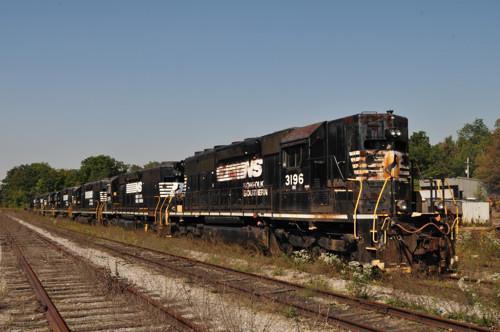 Among the rest of the melee at Cresson, there is a scrap yard belonging to the Cresson Steel Company. The yard manager, very friendly gent named George Kuzar kindly allowed us in to get some pictures of some former NS locomotives they were cutting up. One engine was well gone and this sorry line up were waiting their turn. They are 6 SD40's and an SD38. They look like they've been standing for some time.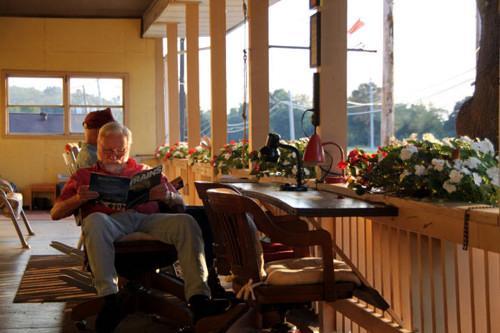 Getting back to the Station Inn, Tom Davis is looking very relaxed as he checks out the latest issue of Trains Magazine on the Veranda. It is indeed relaxing to spend a day here just sitting watching the trains go by.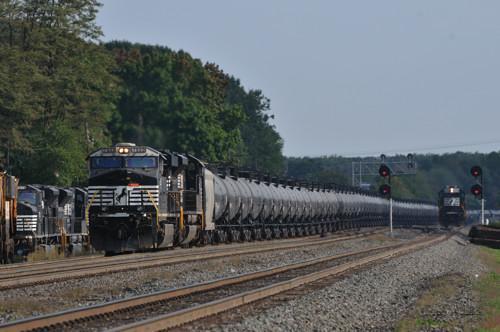 The main line is 3 tracks. Here is a train of tankers coming through Cresson heading West. It is passing the stabling / servicing point on the left. The tanker train is on track 3. On the right, a helper set, a pair of SD40E's, is on track 1. This tanker train, headed by an ES40DC and an SD70M-2, is known coloquially by railway men as "The Bomb". It is an Ethanol train and due to is Hazardous nature, it has barrier wagons front and rear.
A good time was had by all. One thing I would defy anyone to do is visit Cresson and not travel home planning their next visit.